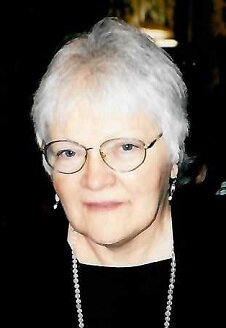 Obituary of Catherine H. (nee Loder) Hinckley
Catherine was "Cathy" or "Sweetheart" to Art, her husband and partner of more than 62 years. She was "mom" to two sons for much too short a time (Joseph and Matthew) and mom to four daughters that were so blessed to have her in their lives, to love them and guide them (Ann, Deb, Paula, and Char). She loved her son-in-law Rich, a treasured member of the family for 40 years and cared deeply for Paula's late partner Al and Ann's partner, Joe. She was "grandma" to her 10 beloved grandchildren (Tara, Nate, Chris, Britt, Emily, Josh, Mya, Jake, Nick and Genna). Known as "Daredevil Grandma" to some, for braving Space Mountain in her seventies when no other adult would go with the grandkids. She was also "grandma" to five great grandchildren (Ashton, Ava, Cameron, Greyson, and Dezmond) She was "Aunt Cathy" to well-loved nieces and nephews (Lynne, Duke, Dave, Chris, Brian, Mike, Sam, Michelle, John, Catherine, David, Greg, Scott, Laurel, Charlie, Kim, Jen, and Brian), as well as a slew of great nieces and nephews. Cathy was a fighter and a survivor. She battled Type 1 diabetes for nearly 80 years. Later in life she was able to rebound from a heart attack and stroke and later survived brain surgery. She was one tough woman. Cathy's focus in life was her family. Her husband, parents, sisters, children, grandchildren, great-grandchildren, nieces and nephews were her world. Whether it was thanksgiving at the farm, Christmas gatherings, Loder family picnics, swimming parties and corn roasts on South Blossom, or game nights, she was happiest when with her family, laughing and visiting, enjoying the company of loved ones. Cathy was also a devout Catholic, active in the church, especially at St Stephen's Parish in Ona West Virginia. She was a eucharistic minister and sang in the choir. One of her favorite memories was visiting Rome with Art and going inside St Paul's cathedral. She was also a bit of a rebel. She loved high heel shoes (very spikey high heeled shoes) and brightly colored sneakers. She was also known to garden wearing flag pants. Cathy enjoyed bowling in the mixed couples league and enjoyed attending Buffalo Bills games, and when in West Virginia, Marshall University football games. She enjoyed plays at Shea's and St Joe's and also always made it to her grandchildren's school activities. Cathy also enjoyed regularly meeting her sisters Betty Ann and Bobby for lunches and talking to her sister Mary Alice on the phone. Cathy loved animals and could frequently be found with a dog on her lap when it was not occupied by a small grandchild. Sassy and patches are lost without her. We are all quite lost without her, we miss her steady presence in our lives, we want so badly to have her give us her blessing just one more time "God Bless you and all the good things" Mom - We love you a bushel and a peck and a hug around the neck, a barrel, and a heap, and we're talking in our sleep about you, all about you.
Visitation
3:00 pm - 7:00 pm
Thursday, May 26, 2022
Cichon-Borgosz Funeral Home Inc.
4929 Broadway
Depew, New York, United States

Get Directions
Mass of Christian Burial
9:30 am
Friday, May 27, 2022
St. Mary of the Assumption Church
1 St. Mary Hill
Lancaster, New York, United States
Please Assemble at Church

Get Directions