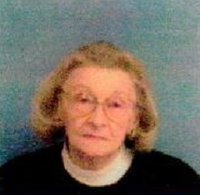 Josepha "Nee Biegalski" Wach
Josepha Mary (nee Baegalski) Wach
Josepha was born before the Great Deppresion. When asked if this had an effect on her childhood, she replied, no. Growing up with a single mother in Depew and then later with a step father in Lancaster, she said she never remembered a time where she felt hardship of any kind. Her hard working mother not only sheltered her from any harsh reality, but she admitted to being pampered. Her sister, Clara, used to warm her underwear on the water radiator in the winter months. Josepha loved the movies and was treated by her mother to afternoon movie matinees at the local theater. She could spend hours talkig about the old stars of yesterday like Robert Taylor and Olivia de Havilion. She thought Steve McQueen was a "doll".
Her children thought she missed her calling and should have become an English teacher. She loved the written word and was an avid Scrabble and Crossword Puzzle fan and NEVER call her during Jeopardy Monday - Friday at 7:30 PM.
As a young women, Josepha took a course in Buffalo to become a "candy stripper" but later worked in her mother's beauty shop, Verna's, during her high school years and early 20's. This is where she met a women that would become her life long friend. Irene Chojnacki and Josepha were inseperable, spending weekends at each other's homes, going to dances at St. John Kanty's in Buffalo and taking trips together.
After each of them were married, their friendship continued to grow and their families spent manywonderful times together. Josepha was Godmother to Irene's son, Bruce. Their friendship lasted over 50 years.
Josepha married Bill whom she knew as a child and they took over the beauty shop for over 25 years, keeping the name Verna's. The shop eventually moved from Broadway to West Main Street in Lancaster.
After buisness closed, Josepha dressed hair with Bill and then with some partime help at St. Elizabeth's Home on Broadway in Lancaster for almost 10 years. After Josepha retired from hairdressing she got a position in housekeeping there and enjoyed the "girls" she worked with, becoming friends with them as the years went by.
When her daughter's husband, John became ill, Josepha
took care of his needs and kept him company for almost 1 1/2 years so her daughter could continue working without the worry of leaving John home alone. John and Josepha became very close and she was grateful for the time they shared.
Later in life Josepha had the pleasure of becoming close friends with Alice Przybyl and Martha Gonzalez. They gave her wonderful companionship, support and encouragement, especially after Bill passed away. She cherished them both very much and talked about them often.
After ofer 50 years a 24 Shearborne Ave. and then a condo in Lancaster, Josepha resided at Peregrine's Landing Assisted Living in Cheektowaga where she made many friends, both with staff and residents. She was wonderful "sounding board" and good listener, not judgemental, always positive attitude-evident by the "many breaks" the staff would take in Josepha's apartment just to talk about their day or family activities-or sometimes a little "venting". Josepha was sympathetic having worked with the public herself for many years.
Josepha was never a "joiner" most of her life, a bit reclusive, relished her solitude and took comfort in her daily prayers, but always enjoyed visits, especially from her son daughter and daughter in law.
Being a member of St. Mary's Ministry of Praise, if there was someone you were concerned about, Josepha would gladly add them to her daily regiment.
Among her many joys in life she counted the time she had with her son's wife, Judy. She always thought her as a "second daughter". Jokingly, she would ask Judy and Bill occasionally: "You still like him, right?" and Judy would respond: "Yes, I still like him!" This went on for 25 years.
Besides her love of motion pictures, many may not know that Josepha had a remarkable talent as a piano player. Although she took lessons as a child, she mostly could play "by ear". She would listen to a song she liked, find the proper key and chords and before long, would be able to "sound" out the tune! Her daughter, Andrea, remembers coming home from school, walking through the kitchen door to the sounds of "The Shadow of Your Smile" or "Spanish Harlem" being played. Her son, Bill or as the family knew hism as Billy (since his dad was called Bill) inherited Joseph's musical abilities and played several instruments throughout his life, focusing on guitar and piano. Family holidays always revolved around music in some form.
Years ago when her husband or daughter were asked: "Do you play anything?" their response was "Yes, the radio!"
The last few years were filled with healh issues but Josepha endured them with dignity and grace- never the complainer, always trying to stay positive and more.
Josepha is the beloved wife of the late William; Devoted mother of Bill (Judy) Wach and Andrea (late John) Natello; Loving step grandmother of Wendy (Jose) Latalladi, Rick (Emily) Hyburg and Cathy (Scott) Hyburg; Dear sister of the late Clara Natalizia. Also survived by nieces and nephews. Relatives and friends are invited to a Mass of Christian Burial in St. Mary of the Assumption Church 1 St. Mary's Hill, Lancaster Friday at 10 AM