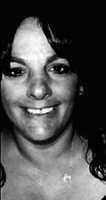 Angela J. "nee Layeux" Wolfchief
WOLFCHIEF, Angela J.
nee Layeux
Of Lancaster, September 17, 2017. Beloved companion of Scott K. Empl; Devoted mother of Tara Forbes, Andrew Forbes, Nicole Wolfchief, Katelyne Wolfchief and late Adam Forbes; Cherished grandmother of Anastasia; Loving daughter of Barbara (nee Lamberson) and the late John Layeux; Dear sister of Crystal Green, Colleen (Dean) Sampson, Doneitta (Tracy) Layeux, Virginia (Laura) Phoenix, Patrick Hance, Teresa Layeux, Ricky Layeux, late Daniel Layeux, late James Anderson and late Kathleen Bistodeau. Also survived by nieces and nephews. Relatives and friends are invited to a Mass of Christian Burial in St. Philip the Apostle Church 950 Losson Road, Cheektowaga Thursday at 10 AM. A Service will be held at a later date in Arizona.